By Mark Caudill, mcaudill@nnccgarnett.com
News Journal, 419-521-7219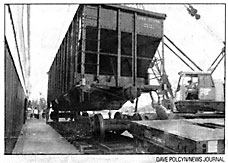 MANSFIELDS – The third expansion for DA International Casting Co. was a big deal. Literally.
The company is displaying a 60,000-poiund railcar on a section of track installed at the plant, 23 Mansfield Industrial Parkway. With the help of Ashland Railway Inc. and Purdy Construction Co., the car was moved Friday by flatbed carrir, lifted with special cranes and placed on the tracks.
About 30 employees and family members gathered outside the plant for the spectacle. Many, like C.J. Lawhorn were taking pictures. Lawhorn, who joined DA International Casting only two months ago, used her cell phone to record the moment.
"I'm still learning the concept of everthing, but this is a very nice idea," Lawhorn said. "This is very exciting for us."
The purpose of the display is to feature some of the castings and fabrications that DA International and its trademark division, WINE Railcar Products, supply.
"it's an ornament, but it's also a functioning car for development pursposes," said David Kerrigan, president and chief executive officer. "If you see coal in a car, chances are it's got our parts on it."
As cranes lifted the massive railcar, a delicate monarch butterfly – weighing somewhat less than 60,000-pounds – fluttered past it. Purdy Construction workers directed traffic.
Mark Carifa, vice president of operations, expressed concern about nearby power lines getting in the way of hoisting the railcar, but there were no such problems.
Purchasing manager Peggy Stevens, who has been at DA International going on two years, joined Carifa in taking pictures.
"It's really exciting, something special," she said
Kerrigan formed DA International in 1996. The company moved to Mansfield in 2003, Kerrigan credited Mayor Lydia Reid and economic development Director Tim Bowersock for swaying the decision.
"We've got a lot of places we could have gone," Kerrigan said.
He said the family-owned company has flourished since its move to Mansfield.
"We can't expand much more," he said.
As Friday's festivities drew to a close, Kerrigan looked admiringly at the railcar, which his kids wanted to climb. Asked how long he would leave the display in front of the company, Kerrigan said, "as long as possible."