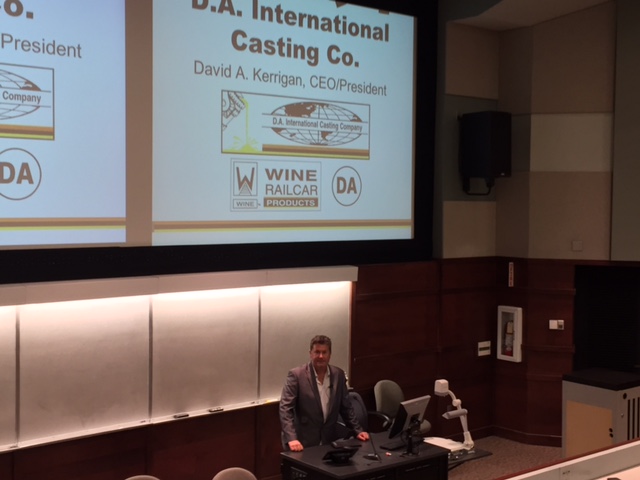 D.A. International Casting Company's CEO & founder, David A. Kerrigan, was invited to speak to a senior Ohio State University marketing class today. This is the second time Mr. Kerrigan was asked to address the class about his challenges and successes in the world of international business.
Kerrigan spoke to the class about his numerous entrepreneurial experiences over the past 35 years. However, his main message to the students addressed D.A. International Casting Company's success in the international marketplace. Mr. Kerrigan emphasized the importance of long-standing relationships with business colleagues abroad. He explained that much of the success of D.A. International Casting Co., is based on over 20 years of working with people that have the strong business morals and work ethic.
"After 53 trips to China, I consider my business associates there as family," said Kerrigan. "You must have relationships you can trust fully to produce top quality products. I've been blessed to work with highly experienced business professionals in our trade."
Kerrigan added, "You must meet the needs of your customer in a timely manner. We work with our partners abroad to ensure all standards are met, or exceeded. We inspect abroad, and again in our plant in Mansfield. Product integrity is essential to any business you may enter."
His speech inspired many interesting questions from the class. After answering them, he told the students "Work hard & set your goals high. Don't just try to reach them," he added, "try to jump five feet higher. If I can do it, anyone in this room can."
Kerrigan was honored to learn he will address the class again this fall.