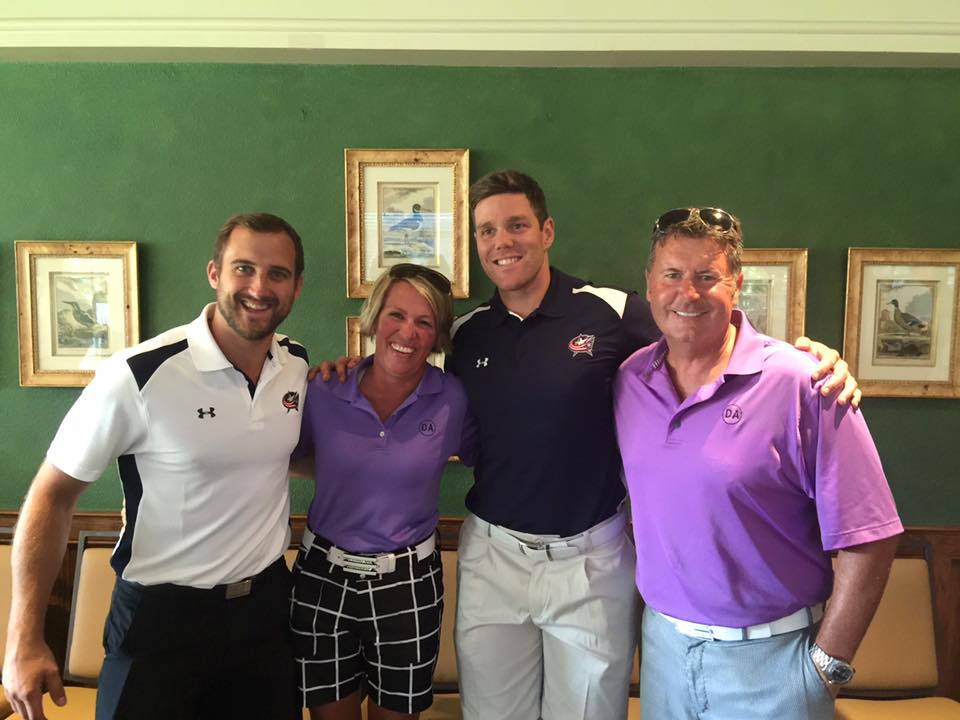 CBJ Captain Nick Foligno, Heather Kerrigan, CBJ Defenseman Dalton Prout, & David Kerrigan
As excitement builds over the upcoming 2015-2016 Columbus Blue Jacket's season, David Kerrigan, President/CEO of D.A. International Casting Co., joined the team for the 2015 CBJ Corporate Golf Outing at The Lakes Golf & Country Club. Dave and Heather Kerrigan had the pleasure of playing with former Blue Jacket Fredrik Modin. During his time with, the Columbus Blue Jackets, Modin served as an alternate Captain. He is also one of the elite members of the Triple Gold Club having won the Stanley Cup with the Tampa Bay Lightning, and Gold Medals both in the Olympics & the Ice Hockey World Championship while representing his home country of Sweden. Only 26 hockey players hold this honor.
"I've had the pleasure to get to know Freddy on the golf course, and on the ice," said Kerrigan. "Freddy was a great player and serves as a wonderful ambassador for the game of hockey. I'm so glad he continues his involvement with the Columbus Blue Jackets."
D.A. International Casting Company is a proud partner of the Columbus Blue Jackets for the third year in a row. "I am thrilled to see the new talent that has been added to the team this year, but it's also exciting to see the team have a Captain this year in Nick Foligno," added Kerrigan. "He showed great leadership last year during tough injuries. Dalton Prout is another example of a talented, hard working player who helped hold the team together under difficult times."
The excitement for this new season could be felt all over the golf course. John Davidson, president of Hockey Operations, and Jarmo Kekalainen,  CBJ General Manager, we are also in attendance and are looking forward to see their off-season work play out on the ice. Coach Todd Richards told Kerrigan that it's fantastic to see players like Brandon Saad join the Blue Jacket team, but he's just as excited to see young players like David Savard and Ryan Johansen return to the ice as better, more experienced players.  The hockey world is already taking notice of this new and improved team. In fact, Sportsnet recently named the Columbus Blue Jackets one of the most improved teams during the off-season. The CBJ checked in at number seven.