D.A. International Casting Company is proud to announce a new partnership with Tealinc Ltd. on the Rapid-Release Cam Lock Assembly. D.A. International's Rapid-Release system is the most advanced manual door lock system specially designed to allow one person operation from either side of the car. This system assures that unloading open top hopper cars is easier, safer and more efficient.
Tealinc, Ltd is a dynamic results-driven company that specializes in transportation solutions for shippers, railroads and investors. Tealinc, Ltd. buys and sells railcars and locomotives to the shipper, railroad and investor community. They also supply railcars through operating leases.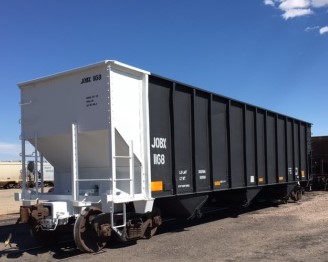 "This new partnership with Tealinc Ltd. offers an exciting new opportunity for D.A. International Casting Company," said David Kerrigan, President and CEO of D.A. International Casting Co. "We are delighted to be working with this major leasing company to offer the most advanced manual dumping system on the market."
The Rapid-Release system is designed using the same technology as the proven single door cam lock system, but requires fewer parts than that of a pair of single door cam locks. With one cam lock system, a pair of hopper doors can be operated from either side of the rail car by one person. It is easy to install on new or existing conventional hopper cars since it features standard mounting hole locations.
Be sure to check out our Videos section for more information on the Rapid-Release.